Latest News Home Contents Site Map Previous Page Next Page
Fitting the Front & Rear Trays

Fitting Front Tray.
This is simple. The tray is oversize at the radiator end and requires cutting. We followed the instructions in the manual and presented the tray to the radiator and marked the outline of the radiator onto the tray.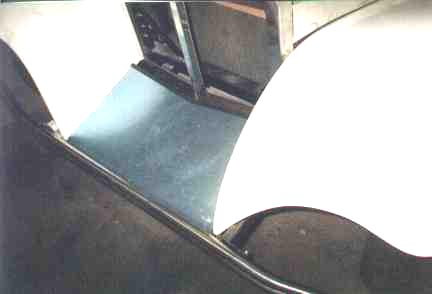 Then we measured the distance the tray was sticking out over the end of the chassis and deducted this measurement from the line we had drawn on the tray and made a new line.
And cut to this line and added trim to the edge where it butts on to the radiator grill. On the Tourer and TSR this tray slides underneath the Radiator grill.
We deviated from the manual here by fitting bolts with chrome dome head nuts. So all we needed was to drill six equally spaced holes three either side in the plate and through the wing flanges. If you are fitting self tapping screws you will need to drill ten holes.
Rear Tray.
I was fortunate here, that Mike Cushley from Glasgow had manage to obtain aluminium sheet offcuts from a firm he was friendly with.
One of these was used to mark out a rear tray and cut to size. Then the edge trimmed with beading. This was bolted to the chassis.
The Rear Tray comes as a standard fitment on the New Falcons.
Latest News Home Contents Site Map Previous Page Next Page
---
---