Latest News Home Contents Site Map Previous Page Next Page
Fitting the Hood & Frame.

Hood Frame
The hood was purchased from JBA.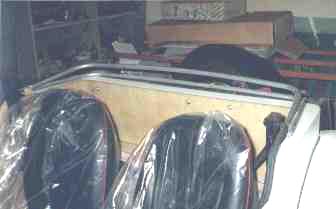 I started here by fitting the hood frame.Then bolted the frame to the outside of the hood socket on the back of the upright posts, with the small hoop first, then separated by a spacer, fitted the large hoop.
Looking from outside of the car the large hoop should be the one nearest to you. These were finished off using chrome dome nuts.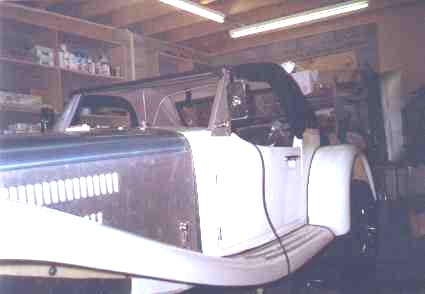 Please note we had the wooden windscreen was in place doing this task These photos taken afterwards
The Hood
I placed masking tape round the back of the CBU and along both sides as per manual. Then I fitted two press studs to the windscreen frame and fitted the hood securing bar into its pocket on the hood, rounding off the corners of this bar on the bench grinder before doing so.
I slotted it into the stainless hood retaining bar on top of the windscreen. The hood was draped over the car now. It was now a case of centralising the front of the hood and marking the hood against the press studs at the top of the windscreen frame. Next I punched the two holes in the hood and fitted the press studs and secured the hood to the windscreen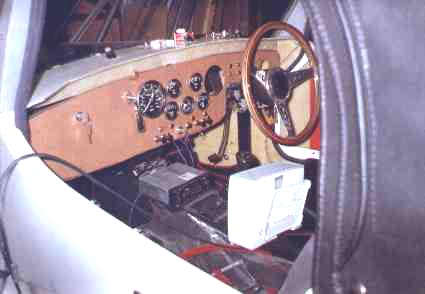 The hood must be fitted in warm conditions and I always kept the hood in the house, but as it was winter when we fitted the hood.
We used an electric fan heater inside the car to keep the hood warm at all times.
I waited till Kenny was available before completing this bit. We erected the hood frame and started pulling the hood over the back of the CBU down to the masking tape pulling a corner each.
We then pressed the two end studs of the hood on to the masking tape to leave an imprint on the tape.(that is the ones on the straight part of the cbu before it disappears round the side) We drilled these two marks and fitted the press studs and fitted the hood to these.
Next we marked the remaining studs onto the masking tape at the rear of the CBU and drilled the holes, fitted the studs to the body and re-fitted the hood. We then had to fit the sidescreens to the doors to complete the fitting.
My Mascot

"Dougal"

Made by my wife Janet

for our

JBA Falcon Sports SR
Finally it was a case of repeating the same on both sides of the car. We had to pay particular attention here, to allow the hood to follow the line of the sidescreens, to make sure there were no gaps either side. The main press stud here is the bottom one at the side of each door.
Latest News Home Contents Site Map Previous Page Next Page
---
---