Fitting the Doors Door Locks Strength Brackets
Latest News Home Contents Site Map Previous Page Next Page

Fitting the doors
Have the Door seal in place when starting this task.

Use the door seal as a guide removing and refitting it to get things right. The door must compress the seal
The reason for this is if you don't. When you come to fit the seal later the doors will not close. Which means resiting the door hinges drilling new holes.
Do not cut the seal to fit the door size. This seal goes all the way round the car from the N/Side upright round the door and upthe windscreen frame along the top and down round the other door and stops at the Off/Side upright. Just drape the rest over the car.
I trimmed the door flanges as per manual using a small angle grinder, which I did outside, as the dust gets everywhere.
You can modify the doors at this stage. In the photo below Derek Bintcliffe has fibreglassed in arm rests and done his own design on the doors.
Some other builders have added wind up windows and even electric windows. I will find out more about this later.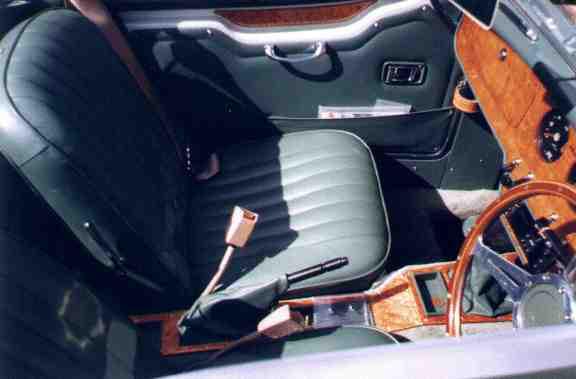 Next we had to cut away part of the door flange top and bottom to allow the door hinge pins to clear. This is simple follow the instructions in the manual.
Kenny fitted the hinges and the hinge support plates supplied by JBA. I used different door hinges which were pre-drilled.
Where the hinge fits on to the door you need a spacer to achieve equal shut lines. We did this by using washers between the hinge and the door. Top and bottom. Sometimes with more washers in the top bolt or vise versa.
As with any door hanging it is all trial and error stuff in order to get the same shut lines all round. It does take time. Once this is done with washers we measured the space between the door and the hinge and made up a spacer to fit the space.
Door Locks
Follow the manual. Kenny fitted the Antiburst door locks on the edge of the doors using the template supplied with the manual and fitted the exterior chrome door handles available from JBA. These door handles were standard fitment on the Cortina mark 3 and Capri's. Modifying the connecting rods from the donor car. This is a right fiddly job you need tiny fingers.(coupling up the connecting rods I mean)
Strengthening brackets were made up and fitted to the interior of the doors to hold the interior door handles. These are chrome handles from a Jaguar that I got from Mike Cushley from Glasgow. They also come in black from ERF lorries.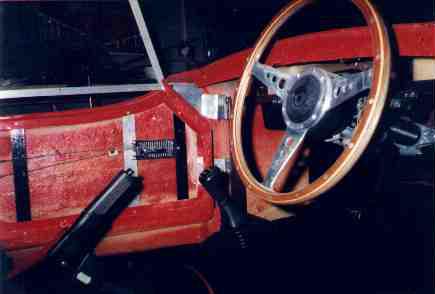 Strength Brackets
Other strengthening brackets we fitted, were for the door hinge support brackets to the scuttle loop and from the windscreen frame to the scuttle loop and for the door check straps.
Latest News Home Contents Site Map Previous Page Next Page
---
---