Latest News Home Contents Site Map Previous Page Next Page

Fitting the Windscreen Frame
Fitting the windscreen frame this was a task that is fiddly and needs care you have to pay attention to the manual.

Kenny cut the frame to fit the scuttle and slanted the bottom to fit the line of the door and rounded off the edges on the bench grinder. Then bent the bottom of each side of the frame inwards to fit the scuttle.

I marked the holes in the frame and then drilled using the smallest drill I could buy. It takes ages to drill through stainless steel and the drill must be used at a slow speed

Once that initial small hole is drilled it is quick to get up to the diameter of hole you require by stepping up one drill bit size at a time.
Next the inside top frame has to be cut and fitted then the side frames cut and fitted plus the hood retaining strip ,which is stainless steel.
Then the aluminium bottom windscreen rail Which sits on the "P" type weather seal.
All this was done dry. No sealer was used until the car was painted
Kenny trimmed the scuttle according to the manual using a hacksaw, to reduce the dust.
The demister vents were cut out of the scuttle roll cover which was added later.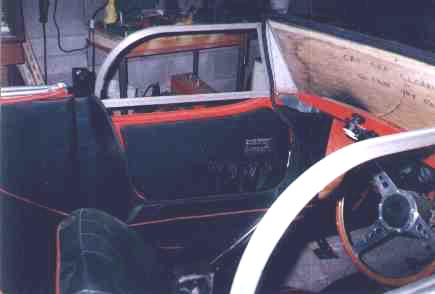 Rather than using the windscreen glass I had a wooden template of the glass made and used this to line up the whole lot and used it again on final assembly.
This adds immense strength to the frame and saves damaging the glass. It was a tip I received from Steve Himsworth of YKC. You can also fit the hood later in the build up stage rather than waiting till the car is painted using the wooden windscreen.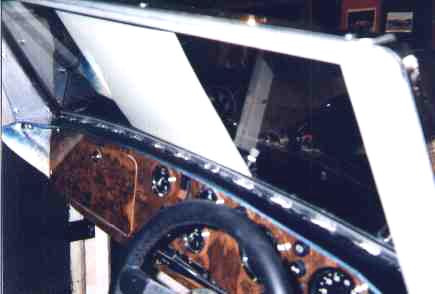 Photo taken at Factory.
In The Photo above you can see the windscreen glass fitted
Note the "P" weather strip held in place by little pieces of metal pop riveted onto the scuttle.
Mistake I made next I copied the mirror location from another JBA. I thought they looked good.

I had purchased MG T type mirrors from Holden and fitted them to the windscreen frame as you can see in the photo.

The nearside mirror was fitted in the same position.

Of course to see in the nearside mirror it had to pulled right back, so that when you opened the passenger door it hit the mirror.

That is why most people fit their mirrors on the side window flaps or the doors.
Latest News Home Contents Site Map Previous Page Next Page
---
---