Latest News Home Contents Site Map Previous Page Next Page

Fitting the Boot
Fitting the Boot Please Note This Section does not apply to the New Sports. As it now uses the boot similar to the Tourer.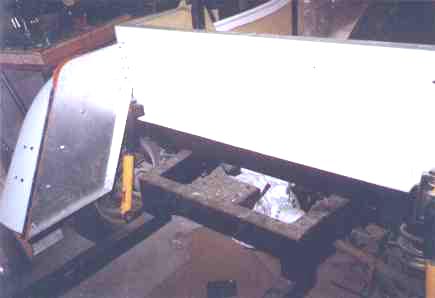 Firstly we fitted the rear side panels to the CBU 44mm down from the top of the CBU and 1064mm apart and cut away a section of the flange on the rear side panels in order to radius the corners, using the rear panel as a template for the curve, as per manual.
Next we fitted the aluminium angle onto the tub between the two side panels and fitted the mild steel strips onto the end panels
I had access to long pieces of mild steel and used them bending them to suit the curve of the side panel and fitted using countersunk rivets, then sized up the rear panel and cut it to fit top and bottom as it is supplied oversize. temporarily securing it to the side panels with four rivets.
Then it was fitting the aluminium trim onto the edges of the boot and drilling through the aluminium the side panels and mild steel strip to secure it all and counter sinking the holes on the aluminium so that the screws would be flush. Then drilling the hole for the petrol filler cap.
Finally it was a case of making up two L shaped brackets to secure the assembly to the chassis rails.
I modified the rear boot panel later. I got my local blacksmiths, McLeod and Hunter Buffies Brae Dunfermline Tel: 01383 735515, to make me up a spare wheel carrier in steel.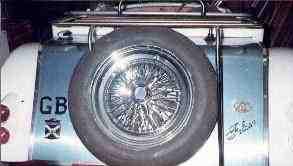 This I fitted to the boot with mild steel backing plates fitted on the inside of the boot and secured to the chassis rails. I also drilled the rear panel for all my badges.
Latest News Home Contents Site Map Previous Page Next Page
---
---