Latest News Home Contents Site Map
Well here is the start of it.
Mike saw his first JBA a white one when he was driving in Glencoe it was beautiful he did not realize that it was a kit car.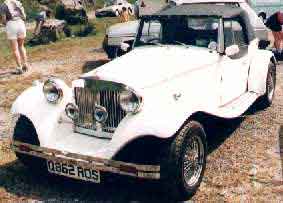 His good lady Jean was impressed with the car and he thought I must have one of these.
The owner was not present at the time and must have been walking the hills. To this day neither Mike or I have discovered who owns the Falcon. It is on a Q plate registered in Scotland.
However on the 14th April 2001. I received an email from an owner in Ayrshire, who had built his Plus 2 way back in 1989. This set me thinking. I had never heard about this car. I used the BT phone book and found his number and phoned him. Low and behold, when I asked him if the Registration was Q862 he said yes RDS. What a coincidence, two in fact, his name is Gibson. The Falcon is now painted Burgundy and has been used everyday since it was built. Bill was equally surprised, when I told him that a photo of his car was on this page.
Robbie.
Mike then went about trying to find out who made these beautiful cars and once he had done so a visit to the factory at Standish was on the cards.
Mike visited a JBA Open Day I think it was October 1992 and was very impressed by what he saw. The attendance that day by owners must have been in the region of 30 cars.
Mike did not order his kit there and then, but waited until he was home to decide which model to choose.
The models at that point in time were Cortina based Tourer Cortina based Sports and the Sierra based Sports.
Mike decided on the Cortina based Tourer and sent his order off to JBA with delivery to be undertaken by JBA.
I met Mike at the first meeting of the Scottish section of the JBA Owners Club held in Aberdour on December the 5th 1992.
There were not many JBA's in Scotland then and Mike and I became very good friends as we lived about 35 miles apart and were both building at the same time.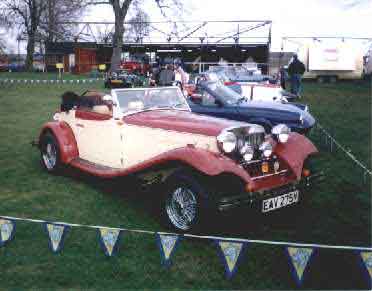 Mikes Tourer was completed in April 1995 and was on the Scottish Kit Car Club stand at Ingleston, Edinburgh.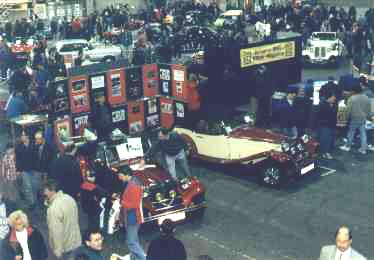 Mike sold his beautiful Falcon Tourer the following year at The Scottish Kit Car Show at Ingliston, Edinburgh. It was on The JBA Factory Stand.

The Start of Mike's Tourer Cortina based build Follows
Click here to continue Next Page.
---