Altering The Doors and Side Windows.
I really admired the side windows on Burman Parker's V8 Falcon, when I saw it at one of the JBA Open Days.

So I thought I would try it myself.
After contacting Burman on the phone. He was kind to send me drawings of the windows, with details of how he accomplished this task.

Thanks to the wonders of the JBA Owners Club and the Internet.
The doors will have heavy insulation added to them later, to give a solid feel.
This entailed buying another strip of aluminium and cutting and bending it.

I also fitted Jaguar interior door handles, which I purchased from a scrappy for a fiver.

Still to get windows made up that will comply with the SVA.
Jaguar door handles are used on the outside of the door purchased new from JBA.

I used the side flasher from the Sierra donor and it is a very good fit.
My attention was now directed to the Wiper assembly. Fitting the three wheel boxes and the spindles.

Fitting the wiper motor, it just clears the bonnet. Finally I made up and bent the bundy tubing that the drive cable runs through.

I tested the system and it works fine.
Next was fitting the other headlamp and the side lamps. Well they are actually the front flashers.
Tony Stafford advised me that this was acceptable for the SVA test.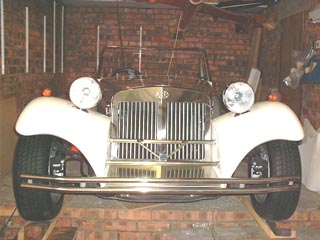 | | |
| --- | --- |
| | I have wired the connections to the heater motor and have the engine management control box in place and wired. |
I am now at the stage where I could do a lot more with the wiring, but really can't continue with this, until the car is painted. So I think I will strip her down and have the painting done before I continue.
Things still to purchase are a steering wheel, I am using the Sierra one for the SVA. Carpets, Seats and Instruments. Robbie showed me a good site on the internet for dials and clocks at reasonable prices. Perhaps he will put the link up.
The firm is called Greengauges and was originally the famous Smiths Instruments.
The link is www.greengauges.com
Good going Doug! I am looking forward to seeing you again. Do you think I should book you a space at The Aberdeen Golden Wheels. It is just down from the SVA Test Station. Yes! I am sure you will be there. Robbie.