The Javelin was exhibited at The Bell Vue Show in Manchester in 1985 along with a Falcon Roadster and also at Stoneleigh to the the delight of the crowds and the press.
The car was originally based on a 1.6 GL Capri. The idea being to show what
good results could come from humble beginnings. The Javelin was entirely
a one donor car with the exception of an Alegro battery tray and Cortina
bonnet hinges. The Javelin could be built to any specification and various engines, gearboxes and interior trim options from the Ford Capri were available to builders.
This JBA Javelin was featured on the cover of the JBA Magazine Summer 1997 edition.

The Javelin belongs to John Maxwell and was photographed at The Yorkshire Show held at Harrogate.

I do not know if John still owns this lovely red Javelin.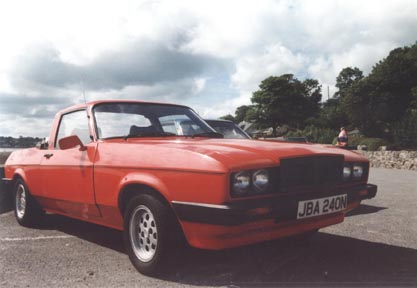 Another nice red Javelin 3 Litre above, built by Kim Hollings.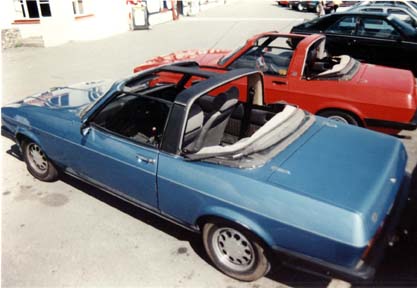 No1 the blue Javelin along with a red Javelin.
The car was bought from JBA by Kim Hollings soon after that 1990 I think.

JBA finished production of the Javelin in 1989.

This car fondly called No1 was the prototype and remained as the JBA Factory demonstrator until late 1989.
When Kim acquired the car, mechanically it was shot and the interior was very
shabby. Kim removed the 4 speed box and 1.6 engine and replaced it with a
2.0 litre engine and 5 speed box. He also put in a 2.0 back axle and brakes. Then
replaced the interior with that from a Capri Lazer. The car has pretty
much remained in this configuration until he sold it to Alex ten years
after he bought it.

A little known fact is that the prototype, is the only Javelin with hidden
Capri type bonnet hinges, all the production vehicles had Cortina type.
Alex Sargent purchased No1 from Kim earlier this year 2000.
You can find more information about Javelin No13.
On Steve's Javelin site.
Somehow I think Kim Hollings knows about this model as well.

I would like to do more pages about the Javelin. I myself know nothing about the Javelin, but the contributors mentioned below have started these pages off. I am very pleased to add these pages to the site, as it gives other owners a chance to find out more about the Javelin. If you have Javelin photos, information or hints and tips about the models, please send them along. Thankyou for your efforts, I can't do it without you.
Anyone interested in buying a secondhand Javelin
should look a the JBA Cars Forsale page.
Click Here for Next Page.