Latest News Home Contents Site Map
Recollections From JBA Javelin Owners
Kim Hollings & Steve Hill.

The first Javelin No.1 needed to have a tow
bar, when it was used at one show, as it had a speed boat attached to it.


When JBA checked out the chassis to sort out fitting one.
It was found that the hitch could be fastened directly to the rear chassis rail with
no further strengthening or modification.
This red Javelin (JBA 240N) was based on a 3 litre
ghia auto although it ended up with a later style "S" interior with the
horizontal red striping.
The engine, gear box and axles were fitted at the factory.
As this was going to be the first with a 3 litre lump, to ensure that all the brackets and chassis mounting points were in the correct place. Suffice to say it all went together fine.
This picture is of JBA 240N (or RUN 938N as it was then).

In it's final stages of construction with No.1 parked next to it.
These Photos from Stoneliegh, must be around 93 or 94.


The red Javelin on the right hand end SWG 723S is the 3.0 auto that was for sale on the web.

You can see here, a lot of the "extras" that were liberally fastened to the car.

This car was owned by Steve Hill.

The other blue Javelin next to it is Geoff Payne's - it had Renault headlamps and
when he took the roof panels off he would store them between the engine
and radiator. It appeared not to affect the cooling at all.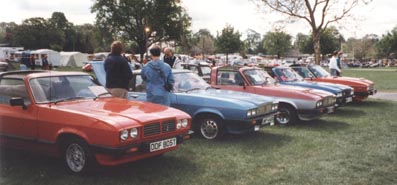 Included in this picture is a two tone silver and maroon car that was
built by a father and son team in 16 days (2 weeks holiday), this
illustrates how straight forward it was to build a Javelin.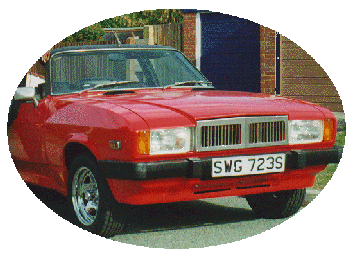 This is a photo of Steve Hill's Javelin, taken from his web site. This is the Javelin that Kim refers to in his recollections above.
After Steve bought the Javelin, he decided to restore it. As he explains below.
That was a 6 month effort, mainly spent on getting the GRP and interior into good shape. The GRP had suffered from lots of extra holes. The original builder had installed the Capri MKII 3 Litre trim, and some additional lights etc from US Capri's.
I wanted a 'cleaner' look, and the only way to do this was to cut out and
re GRP all the areas (if you use normal body filler on GRP, it 'sinks' very badly, as you probably know). The only area I didn't get finished to my satisfaction was where the hood (bonnet!) ornament was - that was because the frame underneath prevented me cutting a whole out to re GRP.
The one area of the car I didn't touch was the engine bay - it had been my intention to fit a Rover or small block Chevy V8 the summer after I did the body work. However, the chance of a job in the US came up and I never had the time. As it was, the 3L was fun, though I often had overheating problems if I got stuck in traffic. I believe it had hot cams and heads fitted, and I think that combined with the more constricted under bonnet conditions caused the problem. On the open road it was a dream though!
Steve's father has sold the Javelin, on his behalf, as Steve is still working in the States. He does not think it was sold to a JBA enthusiast, more of a dealer in interesting cars.
You may see more photos of SWG 723S. When Steve has time to dig them out.
---
My thanks to Kim Hollings and Steve Hill for photos and contributions for this page.
J
B
A