JBA Engineering Ltd.
Motor Vehicle Manufacturers
Unit 56B, Bradley Trading Estate, Bradley Lane,
Standish, Nr. Wigan, Greater Manchester,WN6 0XQ.
Telephone (01257) 424549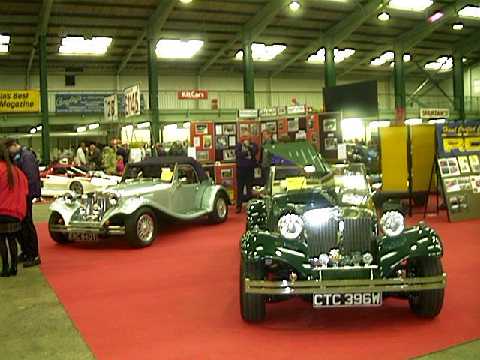 At last the show season is under way again and I must say got off to a very brisk start at Stafford. Attendance was definitely up on last year and the number of new enquiries was most encouraging -- indeed the show is only one week gone and we have already received our first order.
This year we are trying to add to the interest by enticing owners to exibit their Falcons on our exhibition stand at shows. As you can see in the above photograph we got off to an excellent start at Stafford. The two cars belong to:-
Burman Parker - Silver blue V8 Falcon SR
Eric Watkins - Two tone Green 2000cc Tourer
Both these cars passed the SVA test at first attempt even though in Erics case the test had never been heard of when he took delivery of his kit. Eric's Tourer is Cortina based. I must say that both cars are a credit to their owners - well done lads.
We have already started doing test drives as a result of the show.
Photo courtesy of Brian Jones. Thank you Brian.

JBA Engineering Ltd.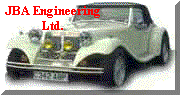 Click on the Falcon to visit
Our Factory Web site.
Copyright JBA Engineering Ltd. Year 2000.