Pictured above are Leo and his wife Pietje with their beautiful white Falcon Sports.
Leo Groeneweg comes from Holland and lives in the city of Veenendaal.
His Falcon is fitted with a Ford DOHC 2.01 engine and was originally fitted with an MT 75 gearbox. The car is painted in Ford 1972 Ermine White.
Leo was looking for a traditional type of sports car a classic car, but found that when he contacted owners of classic cars that maintaining them was a never ending story.
Someone introduced him to Kit Cars and his search led him to an MG B based kit car and they both fell in love with it.
However the handling and the ride quality left a lot to be desired and their hopes were dashed.
Leo was taken with kit cars and on reading "Which Kit" magazine, he came across the JBA. As he is a regular surfer on the internet he came upon a link to the JBA Owners Club, who put him in touch with Guust Poppe the Owners Club representative for Holland.
After phone calls were exchanged Guust invited Leo and Pietje over to see his car. It was a three hour journey to Breskens and they finally arrived at the door of Guust Poppe.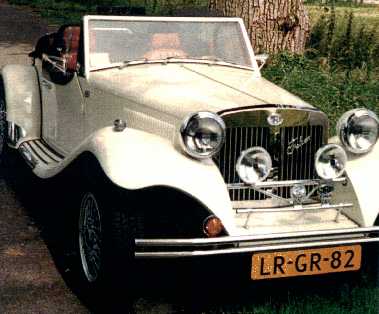 Leo and Pietje fell in love with the Falcon Sports built by Guust, who offered to sell them the Sports. Leo asked if the car could be changed to automatic gearbox as Pietje has only a licence to drive automatics. Guust agreed to this request.
The rest of the day was spent being entertained by Guust and his wife Ria Talking about JBA's all day until they had to depart.
For two days Leo and Pietje thought about the Falcon and decided there and then to buy it in September 1998.
Guust set about fitting an automatic gearbox and six weeks later Leo was the proud owner of a JBA Falcon Sports. Guust had purchased a second hand Cortina based Falcon, from England, as his latest project.
Leo works for an IT company and has started his own Web site. You will find the link below on this page and on the links page.
They have spent many happy hours driving and touring in their Falcon.
This Falcon was the first car of its type to be built in Holland under the new 1995 regulations. It was tested and certificated at the RWD Roosendaal and passed the test with flying colours.