2000.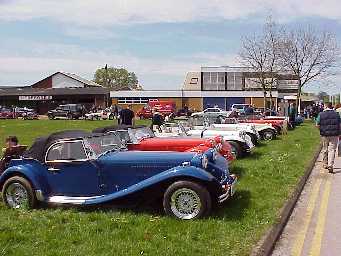 Photo courtesy of Stuart Kelly
Warm sunny weather. Hundreds of Kit Cars. A host of manufacturers. All the Owners Clubs. Masses of Trade & Accessory stands. What did all this add up to........A brilliant Two days.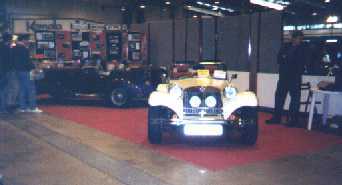 JBA were there with two owners cars on their stand, a white sports just through the SVA and owned and built by Malcolm Edge also a regular car on the stand was Keith Morrish's burgundy Tourer. Keith has added polished stainless steel straps to his boot this year.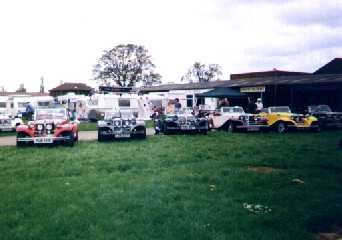 There was a large JBA Owners Club presence. I think someone counted 47 owners cars plus 2 on the JBA stand and 1 for sale elsewhere.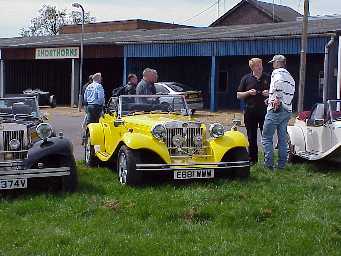 Photo courtesy of Stuart Kelly.
Guust Poppe one of our Dutch friends from Holland is pictured above in conversation with another owner. Guust is the fair haired chap dressed in black.
We had a visit from Geoff Payne M.B.E.
The founder member of the JBA Owners Club.
Geoff started the owners club in 1987 and is pictured here with his JBA Javelin.
Geoff is a genial gentleman who sometimes reminds me of someone who appears once a year at Christmas.
Photo courtesy of Stuart Kelly.
I had made arrangements with Doug Philip from Broughty Ferry to meet him at the show. Most of our day was taken up going round the trade stands and selecting components for his build. The time just seemed to fly.
I thoroughly enjoyed reliving the experience, especially as Doug was paying.
| | |
| --- | --- |
| | Many owners brought caravans and tents to stay overnight and provided their own entertainment, which made for an exciting and pleasurable evening. |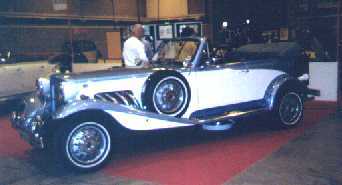 Sunday evening I had a great night out.
Thanks to Dave and Ken from JBA, David and Jayne Young of Beauford Cars and an old friend Keith Morrish.
David and Jayne are very jovial people and I didn't stop laughing all night ye ken (you know).
Dave Ashley left early accompanied by Keith and Jayne, as he was going jogging in the morning. Ken, David and myself stayed on to have another drink.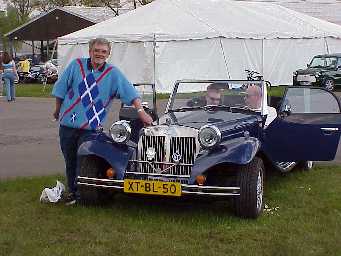 Well absolutely Fantastic! I was overwhelmed by the size of the show.
I met many old friends and made some new ones and had a chat with our Dutch visitors. Stuart took this photo of me with Manfreds car so that I could send it to Leo. I wore the distinctive jersey so that people I was in Email contact with could pick me out.
I still did not find Russell Smith although I found his car. Stuart Kelly managed to spot me. A lot of the photos you will see on this site are thanks to Stuart. Just wished I could have spent more time talking. Hope to return next year and meet you all again.