Latest News Home Contents Site Map Next Page
JBA SVA HINTS AND TIPS

(Singular Vehicle Approval)
Some notes from JBA. Anything I have added is printed in blue and enclosed in brackets e.g. (Mini pedal rubbers).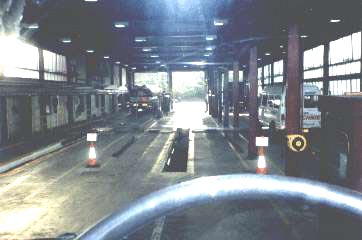 Photo of Livingston Test Station.
Although some areas have been covered in the build instructions the following will assist you.
1. Anti- Theft Device – Retain the steering lock fitted to the Ford Sierra.
2. Demisting – A demist System must be fitted with adequate airflow and heat being delivered to the screen.
3. Wipers and Washers – Wipers must park in a horizontal rest position when switched off. Washer
Washer reservoir must have a capacity of at least 1 litre. otherwise covered in Text.
4. Seats and Anchorages – Covered in Text.
5. Seat Belts and Anchorages – Covered in Text.
6. Interior Fittings – Some areas covered in Text, but:-
a. Non rigid materials can be used to cover edges to reduce radius requirements.
b. Use products with the required radius of curvature ie. 3.2 mm minimum.
c. Use the exempt area behind the steering wheel.
7. Radio Suppression – Fit new good quality suppressed H.T. Leads.
8. Glazing – Use glass of a recognised standard B.S.857 or equivalent
All glass must carry a manufacturers kite mark.
9. Lighting – Covered in Text.
10. Mirrors – Covered in Text.
11. Tyres
a. Must display an acceptable approval mark.
b. Carry correct maximum speed design making.
12. Door Latches and Hinges – Covered in Text but :-
a. Interior Handle must be accessible from adjacent seat position.
13. Exterior Projectors
a. Mascots must retract or detach leaving a base protruding by not more than 10mm.
b. A hand feature or fitting, which is contractible with a 100mm dia sphere, must have a radius of curvature greater than 2.5mm.
c. The car must be presented for testing with the hood erect.
d. Remember the exhaust tailpipe.
14. Protective Steering – Use the donor column and an approved Steering Wheel. ( Use Sierra Steering Wheel.)
15. Vehicle Design and Construction.
a. Make sure no components foul one another.
b. Fuel, Brake Lines and Wiring are routed and secured properly.
c. Avoid Fuel/Electronics near heat source (Exhaust).
16. Brakes
a. Use system fitted as standard to donor.
b. Brake Pedal Rubber must be fitted.
( Try Rover/Morris Mini )
c. Use Ford Fluid Reservoir, which is transparent
d. A red low-level brake fluid warning light should be visible on the dashboard. This should be connected to the handbrake for test.
17. Noise – Fit Silencer, secure and seal properly.
18. Exhaust Emissions – Same as M.O.T., the engine installed will be tested to the relevant standards
for the year of manufacture.
19. Exhaust Emissions (Diesel) – Same as 18.
20. Speedo
a. Must be M.P.H. for U.K. use.
b. Must operate within the maximum design speed.
c. Speedo calibrations should be within the following tolerance.
NOTE:- There are a number of places where Speedo's can be sent for re-calibration, or gauges purchased that can be calibrated manually.
At speedometer indicated speed between 35mph and 70mph (or the design speed if lower) the true speed must not be less than that shown in the following table.
Indicated Speed MPH
Min True
Speed MPH

NOTE:

35
26

If for a given indicated speed the true is less than
the minimum requirement shown in the table this confirms
That the recorded speed is in excess of the true speed by
more than the permitted tolerance calculated by the
equation.

True Speed
------------------- + 6.25mph
10

40
30
45
35
50
39
55
44
60
48
65
53
70
57
21. Design Weight – Covered in Text.
A Strap is Required over the Battery for Security.
Click on next page to continue.
Copyright JBA Engineering Ltd 2000.
Latest News Home Contents Site Map Next Page
---
---