Latest News Home Contents Site Map Previous Page
JBA SVA HINTS AND TIPS

(Singular Vehicle Approval)
Notes Covered in Text.
The JBA Falcon has been tested to European Regulations but please note the following points.
Bumpers Plastic end caps may require a radius of 2.5mm
Exhaust The rear projection is an area where cars normally fail an SVA Test. Tail pipe should be angled to 30 degrees and not protrude past the bumper. Details are shown below.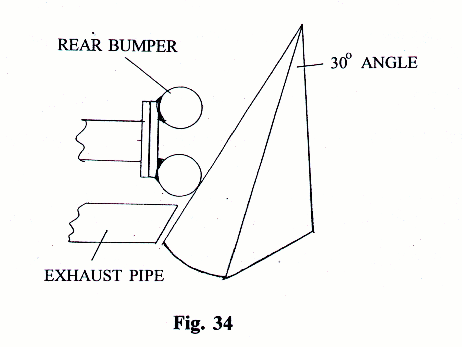 Door Handles Interior. The door handles you must be able To reach either handle from each seat.
Door Hinge requires radius of 2.5mm before chroming or plating.
Mirrors The Offside/ Drivers side exterior mirror must be adjustable from inside the car.
Make sure the field of vision is not obscured by more than :-
(A) Door Mirror 10%
(B) Interior Mirror 15%
(C) Make sure Mirrors are securely fixed. They must not vibrate to obscure the view.
Seat Belts
Use correct Seat Belt bolts.
Make sure Seat Belt bolts are visible, that is not covered by interior trim.
Use Seat Belts that are not damaged or frayed.

Use correct Seats. Diagram to be added to here.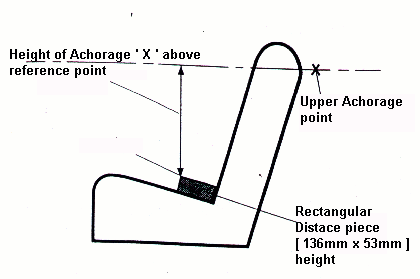 Minimum Anchorage Height ' X ' = 450mm where distance inboard ' Y ' is not more than 280mm. or 500mm where distance inboard ' Y ' is more than 280mm.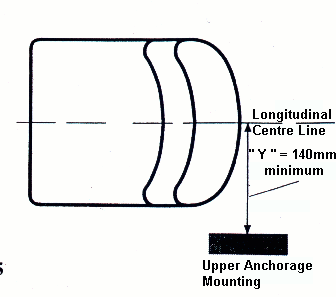 Seat Runners Must not be too deep for the seats to comply with the seat belt regulations.
Steering Wheel Must be solid that is without slots or circular holes.
Wing Tread must have end caps to comply with SVA. These are small triangular pieces that fit on each end of a wing tread strip. Available from many suppliers.
Warning Lamps on Dashboard
Warning lamps must be fitted and visible to the eye for the following
(A) Brake Fluid low level lamp colour red.
(B) Direction Indicators
(C) Hazard Flashers (must be able to work with ignition swiched off)
(D) Rear Fog Lamp
Latest News Home Contents Site Map Previous Page
Copyright JBA Engineering Ltd 2000.
---
---