I still had to build a garage before I could start.
I also joined the JBA Owners Club and became good friends with Mike Cushley from Glasgow. He was building a Tourer at the time. A fabulous car the bonnet shut lines were impeccable, as was the whole car. His car was on the road four months ahead of mine and made its debut at the Scottish Kit Car Show in Edinburgh in April 1995.
I remember it well I was a passenger in his car and it was a cold day. After the show I insisted on traveling home with the hood down. Mike was frozen but I thoroughly enjoyed it.
His car was on the JBA Factory stand a year later, I think it was and he sold it. He nearly broke my heart.
Our kit was purchased in May 1993 and completed at the end of June 1995, a joint venture between myself and my son Kenny. The donor car was a 1983 Ford Sierra 2.0 litre, which we purchased from a garage near Aberdeen, although it has a Glasgow registration.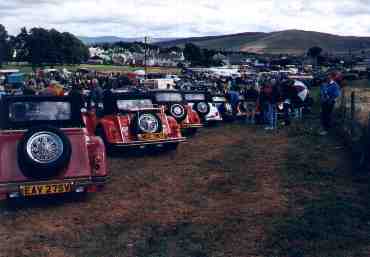 My first run was a flight with the rest of the birds to the car show at Biggar in Scotland. With the JBA Owners club.My wife Janet really loves out in the Falcon and we have been on some beautiful runs in Scotland.
One such run was organized by Murray Stewart on behalf of the owners club and took us through some breathtaking scenery.
We were joined on this run by Derek Bintcliffe, with his new car. On one of his many visits to Scotland, It was on this run that I was able to take the photographs of his car that you see on this site.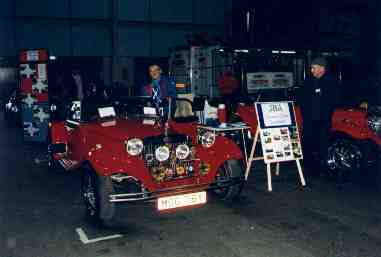 Our car has represented the JBAOC on a couple of occasions.
Here I am with the Sports and Eric Thirkell with his Tourer on their stand at the Scottish KitCar Show at Edinburgh.
Sadly this show has not been held for the past two years. It is a shame really, because it was a great place to renew old acquaintances and make new ones.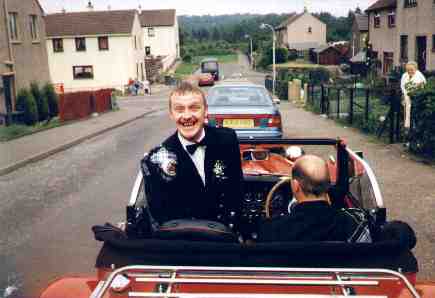 However my proudest moment with the JBA.Was when Kenny said he wanted it as his wedding car. For him and his best man No.2 son Pete.
The JBA stole the show, nobody looked at the Rolls Royce's. Sorry BMW!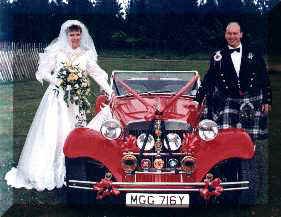 Kenny and Sharon posed for this photo but she would have been able to get her train inside the Falcon Who needs a Beauford, eat your heart out David Young.
I would never sell the JBA for a start, Janet and Kenny wouldn't let me. I would like to build another kit car.

The Beauford like the black one in their brochure, but Mrs.Moneypenny says no and Dave Ashley keeps pulling me away from David Young's Beauford stand.
I would like to build the New JBA Sports with all the modern equipment like the new sports cars electric windows etc. As I am no longer the rugged wee man that I used to be.
You can read about the JBA and the Beauford trip. A nice little story to get your teeth into. Click on the Sports here.

---