Stuart Kelly is a Brummie and lives in Sutton Coldfield on the northern side of Birmingham.
He purchased his Falcon Tourer on Saturday
12-02-2000. from a garage in Warwickshire. He was fortunate enough to be supplied with the build photographs.
Stuart was actually looking for a Jaguar XJS but both him and his wife Jean, could not resist the Falcon gleaming in the showroom.
As his Falcon Tourer was showing off it's JBA Owners Club badge on the badge bar, he thought it only proper to join the club.
His car left the JBA factory 1991 and was built by Kevin Lees from Hampshire. Unfortunately Kevin has left the owners club and moved house.
Stuart would like to trace the history of his car.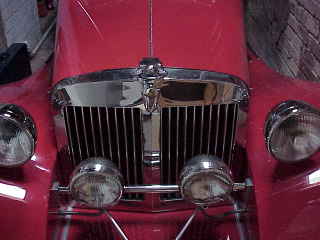 If anyone has any past details of his car RPF 233R. Could you please email me and I will pass it on.
Alternatively you can e-mail Stuart direct from his site.
Stuart Kelly is the Computer Database Manager for Leyland Daf the Birmingham based van manufacturer and is extremely interested in cars. At the moment he is constructing a Web site.
Detailing the history of the plant, where he works, from it's Wolseley days to the present time.
Another of his projects is a Web site about his JBA Falcon. Stuart has now added this site to the net.
I have been looking behind the scenes of his site and wondered.
How did he do that. He has a lot more pages still to add.
Stuart I think will be an active member, participating in many club activities. He is ideally situated to attend many shows.
You will bump into him at Stafford and Stonleigh that's for sure.
He is looking for one Mangel cap. Dave & Ken do you have any lying around that you could take one to him at the Stafford show next month.
This is just a short introduction. You can read a lot more about Stuart by visiting his own Web site. The Link is below.