Last Update Friday 17th. November 2000.

This page will contain the latest news on anything added to this site. Anything to do with Kit Cars. Events. Outings.
Scottish News. Regulations. etc.
Latest News !!!!
Leo and Guust from Holland are thinking about fitting a hardtop to their Falcons. They would appreciate any information regarding trimming, fixing etc. from owners who have fitted one.
You can E-Mail Leo direct or Guust or me and I will pass on any info.
---
Doug Philp from Broughty Ferry near Dundee has resumed the build of his Falcon Sports SRi. Doug was on holiday in Yorkshire in May, when his house caught fire. You can understand that most of the summer he spent getting things back to normal and the JBA had to wait. Doug has returned to the task refreshed this Autumn. Check it out Here.
Steve Hill has dropped his web site about the Javelin. He has moved to an new site, but has still to add the Javelin Pages. I will keep you posted.

Coming Next Month Nothing planned as yet. In fact it has gone very quiet. I guess it is down to the terrible floods that you are all experiencing down south. Hope next year it will be much drier. Maybe I will do a Christmas Theme.
---
What's new this October :- Another page about the JBA Javelin.
David Bradburn's Build Progress with Photos. Click Here.
JBA Open Day on 1st.October Click Here.
A cloud hangs over Stoneleigh for next year 2001. New halls are being built to replace the old ones. The results of this, are that the price has rocketed and organizers will have to expect to pay very high fees for the use of the ground and halls for next year, which means these costs will have to be passed onto Manufacturers and Trade Exhibitors. Question is will they be able to afford such high costs and would it be worth their while.
Dig at JBA. I had a wee dig at Dave & Ken in the Scottish Region web site, about not attending Scotland since 1997. Of course, I have got it wrong again, As you can see in their reply below.
I can appreciate their point. JBA have been at every dedicated Kit Car show in Scotland. Other manufacturers seemed to reduce their numbers over the years. The 1997 show was the last proper Kit Car show and the organizers moved it from April to July. They did not half get it wrong. The dates they chose were when everyone was away. The main Edinburgh and Glasgow holidays. Results, attendance was drastically reduced and manufacturers and traders did not receive the trade and interest in their products, that was normally expected.
I guess we just miss a proper Kit Car Show in Scotland.
Stuart Kelly has suspended his JBA web site, as he is busy with other web projects. I hope he resumes this at a later date, as he had taken loads of good quality JBA photos, throughout the year. Some of which appear on this site.
Wheel Alignment Central Region. A new centre has opened in Scotland called
PRO GRIP 8 Canal Bank, Bonnybridge, Falkirk, Stirlingshire. Tel:- 01324810111
Latest computerised 4 wheel aligner with a 5,000 car specification database with printout. They can also supply Suspension kits, Alloy wheels, Tyres and Exhausts.
---
Grantown on Spey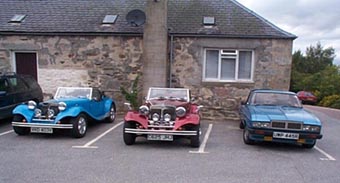 The Scottish section had their annual run to meet up with the northeners on Saturday 12th.August. This was the first run that we had with a Javelin in tow. Sorry Alex I shall rephrase that, it could show us a nice rear number plate, depicting that it was No1. We had the hoods down most of the day and the weather was very warm. It was nice to welcome Alex Sargent with his JBA Javelin as a new member.
This is getting to look like last years report, as I was late as usual, catching them up at Ballater. I couldn't find them anywhere, all the cars were there, so I had a chat with Sugar while I searched for the mobile. They were having coffee in the hotel next door. Dave Tennant said you will have to be first next year.
We headed towards Grantown on Spey. Stopping at the Smoke House. It was here that we had arranged to meet up with Dick Scott from Inverness and he was waiting with that warm Scottish greeting. The Smoke House was closed, but we had our packed lunch, in their picnic park, which is always open, but not the toilets.
Gordon & Julie Hay, from Nethy Bridge had recently purchased a JBA Falcon Plus Two, turned up to meet and chat to our happy band.
We continued to Revak Estate half a mile along the road, in search of toilets and what a beautiful place it was. It was an ideal place for a rendezvous, had we known about it, with cafeteria, duck ponds and gorgeous surroundings.
Dick joined us on our journey west through to Coylumbridge and parted company with us here, heading north for home. We had to make a fuel stop at Newtonmore before starting southbound. All the JBA's were able to fill up with unleaded, except me and as the big Esso garage did not stock LRP, I put in £5 of unleaded to get me to Dalwhinnie. I found it strange that an Esso garage did not have LRP as Esso were the first to advertise it last year before any other petrol company.
Whilst filling up in Dalwhinnie the weather started to change and sheets of rain could be seen falling in the distance, time to put the hood up. Dalwhinnie is a strange place weather wise, it can be bright and sunny one minute and a blizzard the next. The cafe that is there now was originally called "Port in a Storm".
The final stop was at the House of Bruar a tourist attraction centre with walks and waterfalls, the best time to view the falls is in the spring, but I don't think that this year, it would have made much difference.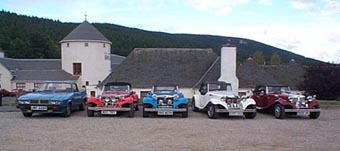 The House of Bruar cars in the line up left to right are
Alex Sargent Javelin, Robbie Gibson Sports SR, Alan Miller Sports,
Dave Tennant Plus 2 and John Donaldson Falcon TSR.
Thanks to Alex for taking the photographs.
---
Hi! Folks Well the season is moving on and the weather up till now has been terrible, however it changed in Scotland last weekend July 16th.for the outing of the JBAOC Scottish Region. More details Here.
| | |
| --- | --- |
| | This was a classic car event, which welcomes kit cars and is held at Dalmeny, South Queensferry near Edinburgh close to the Forth Bridge. |
It was a large show of classic cars, with the JBAOC and the Scottish Kit Car Club having stands there. Camping is available on the site.
| | |
| --- | --- |
| | What made my day was finding a JBA Javelin on the Ford Capri Stand. It means that the complete range of models from JBA can be seen in Scotland. |
This was the first Javelin ever built by JBA and was owned by Kim Hollings from Stockport who sold it to Alex from Dunbar Scotland. There is only a couple of photos of the Javelin on this site and no information at all about them. However with the help of Kim, who had also built another Javelin and Alex I hope to be able to put up a page dedicated to the Javelin with a lot more photos and more information.
I do like looking at the classic cars, seeing the models I was brought up with.

This is a Triumph Mayflower a car I would like to own.
This is a Hillman Imp it is a 1974 model and I could not resist it. I bought it Saturday July16th. the day before the show.

I had one in the sixties, when the kids were wee and loved it.

Once winter comes I shall start to refurbish it, as it is still taxed and MOTd. Now where's that Build Manual.


Tony Stafford still sells Imp parts. Quite a lot of Falcons have Imp tail lamps & rear flashers.
My son Kenny looked at it and smiled with fond affection and said
"Little did I realize, when I was bundled into the back of the Imp all those years ago, that I would ever build a Falcon. Still I am glad you've got it, that means I can have the Falcon". No chance son.
Another Car for sale on the Forsale page Click Here
And more details at this Site.
JBA Owners Club Scotland Page on this site, will be discontinued.


For Scottish fans and other members it has not disappeared.

Just moved to it's own new site. Check it out Here.

As promised a new page detailing the different models from 1982 to the present day. Handy for anyone thinking of buying an already built JBA.
Thanks to Dave & Ken from JBA Engineering Ltd., for their help at Newark in compiling this page.
Check it Here.
The Newark Show.

Another two great days at the Newark show. Drop by for a wee look Here

New Web Site from Greg Waller from Herts. All about Kit Car Links, Owners Clubs, Manufacturers, Suppliers etc. Check it out Here
The JBA Owners Club has a new Web Address. You can now find it at www.jbaoc.org
The Scottish Kit Car Show has now reverted back to
The Royal Highland Showground, Ingleston, Edinburgh on 23rd & 24th. Sept 2000. More Details Click Here.
Wigtown Run May 20th.
The Scottish Section of the JBAOC had their first run of the season to Stair Park in Stranraer for the Wigtownshire Rally. Donald Collier, John Donaldson, Dave Tennent, Ceri and myself . I travelled down on the Sunday morning and the outlook was grim with rain threatening and at Glasgow very dark clouds . However once we got to Ayr the clouds dispersed and the sun started to break through. Once we arrived at Stranraer the weather was lovely and warm. The Park soon filled up and Ceri finally arrived. I really enjoy looking at Classic Cars, it reminds me of my boyhood years. A lot of visitors thought our cars were classics.
Christine Collier won a bottle of "Queen Margaret" whisky in the raffle and wondered if it was real, as it had foreign writing on the label. I was able to assure her it was. It is blended by Invergordan Distillers in Leith and shipped to Germany then comes back into this country being sold at Lidl Stores.
The blend is inferior to other Scottish blends by Invergordan.
A very enjoyable day was had by all.
There is a clear absence of photos in this report. The fool with the camera made a muck of them.
I guess it is a case of :-
"Hi! Scotty, Beam me up Stuart Kelly".
---
Well I had a Great Two Days at Stoneleigh. Read The Stoneleigh Report
Click Here.

Latest Wiper prices from Tony Stafford added to the build page Click Here

Added more links to the Links Page. Ford Engines: Oil: DROC: and SSR. and YKC.

More Photos added to the Photo Page. Click Here

Another bit of news for anyone using Backford insurance. They have now added a Full Breakdown service which also includes European Recovery. This costs £52 per annum and must run concurrent with your insurance.

Find your friends or suppliers with the BT phone book and yellow pages.
I was pleased to receive this photo from Russell Smith, an owner from High Wycombe.

As it shows one of the earlier Falcons. The first Falcon was built in 1982.

Russell bought his car from Francis Lewis in Ormskirk, Lancashire. in 1988.

It was built at the factory in 1984 for an owner in Appley Bridge, Wigan.

Russell is presently fitting a V8 engine to his car.
Stafford Show Report from JBA. Click Here

New E-Mail Address for Dave Tennant (Scottish Rep) DT@themutual.net

New page added JBA Cars and Parts for Sale. Put up your Sales and Wants.
Click Here

Another Photo from Les. On Photo Page.
Another two pages on Doug's ongoing build. Click Here

Phil Whittakers Photo Page. Click Here

JBAOC Scottish Section.
Dave Tennants Update plus Events.
Click Here

SVA another page added. Click Here

Hints & Tips
Another couple of tips
Gears/Clutch. Can't get gears with engine running after car laid up over winter. Simple solution here. Where to find Mangel caps & baskets. Click Here

Les Whiting. Photo of his Falcon Tourer. Les uses it as his every day car. It is on JBA Photo page. Click Here

Some nice Photos on Leo' site. I have included one below.
Added to the Site last week is my first Message Board above. This allows you the JBA owners to take part in the site and with each other.
Post notes about anything e.g. events runs in your area
Post messages from one to another or other people in your area.
New builders can use it to post Queries and hopefully will receive an Answer from other owners.

I have also added a Guest Book. The two look identical just look at each heading.

Also added to the site are two SVA Pages.

First page is hints and tips from JBA. I will try and sus out what all the jargon about radius, curvature and spheres means.

Second page is a list of addresses and telephone numbers of Vehicle Inspectorate Test Stations throughout the UK.

This site has had a spring clean pages redone.
JBA Engineering Ltd.
Now has a new Web and E-Mail address, as well as the old one. You can also find them at http://www.jbacars.co.uk/ Email JBA info@jbacars.co.uk
Stuart Kelly
NEW MEMBER

Stuart has joined the Owners Club and purchased his Falcon Tourer on Saturday 12-02-2000. Let me introduce Stuart to you.
Click Here

He has also started his own Falcon site.
Click Here

He is looking for one Mangel cap. Dave & Ken do you have any lying around that you could take one to him at the Stafford show next month.

Leo our friend from Holland has started his first Web site as the
JBAOC Lowlands Section. From the Netherlands it deals with the 2001 Tour. About the accommodation, photos, links etc.


Makes you think of the holidays and exciting days still to come. Check it out Here.

Remember to go on this trip bookings have to be made early this year through Ron Swift
( Social Secretary ) JBAOC. E-Mail Ron. E-Mail Ron.
Change of Venue
The Edinburgh Ingleston Kit Car and Classic Show has moved to
The Museum of Flight East Lothian.
Those of you who are members of the JBAOwners Club, will have received the latest magazine and may have read Leo Groeneweg's report entitled
"The Dutch Experience".
Leo, a JBAOC member, comes from Veenendaal in Holland and is arranging a trip for members to his country next year 2001. He is co-ordinating this trip with the help of Guust Poppe the Dutch rep of the JBAOC and Ron Swift our UK Social Secretary.To those of you who are not club members.
Let me introduce Leo and Pietje to you. Click Here
Side Screen Frame Page Added 06/02/2000.
Find it in the Site Map or
Click Here.
Find it in the Site Map or
Click Here.

More Events for the Year 2000 added to the Events Page.
Links page updated. More links added.
Click Here

SVA Seems there are only Two V.I. Stations in Scotland for the SVA Test. Bishopbriggs,Glasgow and Bridge of Don, Aberdeen. The SVA Tester in Aberdeen is Ian Anderson. There is a Link to the SVA site on Links page.
Doug Philp's Build.......An ongoing report.
Doug ordered his Kit October1999 which was delivered December 1999.
Read The First Four Pages.
Find it in the Contents Page or if you can't wait
Click Here
Mike Cushley
First three pages of Falcon Tourer Build Cortina Based.
Click Here
New Page added from JBA Engineering Ltd.

A Big Thankyou to you all from JBA. Plus their review of 1999. Click Here

Last Years News

See Last Years News for SVA Details: JBA Open Day: Scottish Run by JBAOC Scotland.
Duncan's SVA Examination. Find it in the Contents Page or
Click Here.
---